Aaron Hines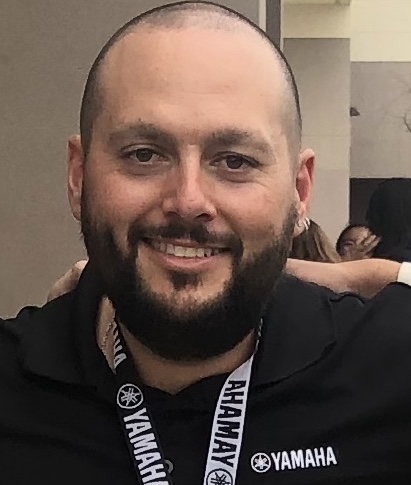 Visit Website
Aaron Hines (ASCAP) is originally from the Sacramento area where his dedication to the percussive arts began as a member of the award-winning Sacramento High School percussion ensemble. For over 20 years Aaron has taught, arranged, and designed for numerous schools, ranging from the middle school to collegiate level while keeping an active clinician and adjudication schedule.
Aaron's ensembles have earned circuit and state titles as well as Medals, Fans' Favorite Awards, and Finalist appearances at the WGI World Championships. In addition, Aaron designs independently for schools across the country and has published works through Dave Glyde Show Designs, GPG Music (Five-time Best-Seller), Key Poulan Music, Creative Solutions, Jair Klarfeld Music, & JW Pepper. He is also an active member of the Percussive Arts Society serving as the Vice-President for the Nevada Chapter.
Currently, Aaron is the Executive Project Manager for Our Virtual Ensemble where he has produced, designed, and edited hundreds of performances including the NAfME All National Honor Ensembles, CBDNA Intercollegiate Marching Band, and NAMM Foundation World of Pianos. He is also the Director of Customer Relations for GPG Music, and is a founder and coordinator for the Northern Nevada Indoor Association (NNIA) and the Sierra Nevada Band Series (SNBS).
Aaron is also an Endorsed Artist with Evans Drumheads, Innovative Percussion Sticks/Mallets, Sabian Cymbals, & the Yamaha Corporation.
For more info, check out www.AHDesigns916.com