Sean Clark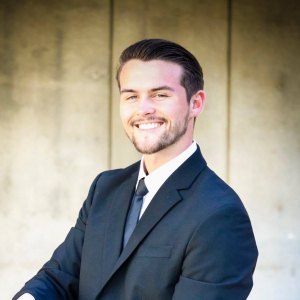 American percussionist and educator, Sean Clark is known for his versatile skills in concert and marching percussion. A high-energy soloist and chamber musician, Sean has given clinics and performed across the United States and internationally. Whether it be teaching or playing, Mr. Clark aims to bridge the gap between classical and commercial music; making classical music more accessible to today's contemporary audiences.


A Marimba One Ensemble artist, Mr. Clark co-founded a Central Valley percussion quartet "Orphic", and won multiple performance categories (duos, timpani, snare) of the 2017 and 2018 Percussive Arts Society (PAS) Northern California competition. He has performed professionally with numerous groups including the Fresno Community Chorus, Sequoia Symphony, and Orpheus New Music Ensemble. Last winter, Sean was involved in a clinic at the Percussive Arts Society International Convention (PASIC) with the prestigious Blue Devil Drum & Bugle Corps. As a soloist, he has been featured with the Orphic Percussion Quartet, the Fresno State Percussion Ensemble and the Fresno State Wind Orchestra performing works such as Gene Koshinski's Circuit Breaker, Michael Laurello's Spine, Aurel Hollo's José / beFore John 5, and Jennifer Higdon's Percussion Concerto.


Outside of his concertizing, Mr. Clark is an up-and-coming marching percussion educator, arranger, designer, adjudicator, and clinician. In his six years with the Blue Devil Performing Arts organization, Sean won three DCI world championships (2014, 2015, 2017), one open class drum title (2012), one Fred Sanford High Percussion Award (2015), and served as the percussion section leader for three years (2015-2017). More recently, he received the Blue Devil of the Year award and was hired as the percussion caption head for the Blue Devils "B" Drum & Bugle Corps (2018). Mr. Clark began arranging and designing marching band shows in 2015. Since then, he has had the privilege to arrange and collaborate with Saratoga High School, California High School, Buchanan High School, and Clovis West High School. Additionally, Mr. Clark has given multiple clinics throughout California and adjudicated at local marching art events.


Sean graduated summa cum laude from CSU Fresno in 2018, where he earned his Bachelor of Arts with a focus in Instrumental Music Education. This upcoming year, he will begin his graduate degree at National University, where he aims to obtain his Single Subject credential and Masters in Education. Sean looks forward to his first year as the Director of Percussion at Saratoga High School.


Sean Clark is a proud endorser of Evans drumheads, Marimba One concert equipment, Promark sticks and mallets, and System Blue marching equipment.