William Gantt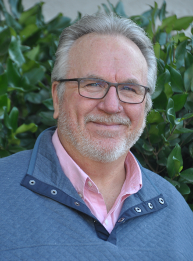 When I was young, our house was always filled with music. From pop music, too Big Band, something was always playing on the stereo. In high school I was introduced to the Concord Blue Devil Drum and Bugle Corps and for the next 4 years I traveled and performed with this group. I then spent 3 years at Los Medanos College, performing in the Instrumental Ensembles.
Following Los Medanos, I attended California State University at Hayward where I majored in Trumpet Performance and Composition. During my senior year, I was lucky enough to audition for Dr Roger Nixon, at San Francisco State University. He accepted me as a Composition student and for the following 3 years Dr. Nixon and I worked together where I received my Masters Degree in the Arts, with an emphasis in Musical Composition.
My first teaching position was at Clayton Valley High School in Concord. I had the pleasure of following in the footsteps of my High School Band Director, Len Walker. After three years, I accepted a full time music teaching position for the Napa Valley Unified School District as the Vintage High School Instrumental Music Director. I held this position from 1986 until 2017 when I retired.
During my time at Vintage High School, I was also an adjunct professor at Napa Valley College where I taught Music Appreciation and Guitar. Conducted both the NVC Wind Ensemble and the NVC Jazz Ensemble for 10 years.
Over the years, I have created many musical compositions & arrangements. Some of my Chamber, Symphonic, Orchestral, Marching Band, and Jazz Band pieces have been performed throughout Northern California. I am currently uploading my compositions as I complete them on my website to share out. To take a look and listen, go to: www.ganttmusic.com
Now retired, am currently on the Board of Directors for the "Arts Council Napa Valley" and my role is Arts Advocacy Chairperson. I continue to perform and compose for the Napa Valley College Wind Ensemble, North Bay Brass Ensemble and play trumpet for the "Generation Gap Big Band", based in Vallejo, California.