Zeke David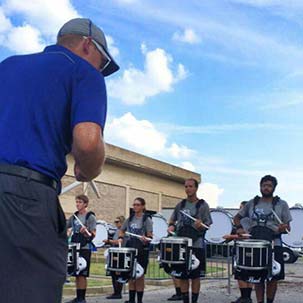 Zeke David is a graduate of the University of Memphis, where he earned a bachelors in Music Business and is now an active writer/arranger/teacher in the Memphis area.
His performance background includes five years with the University of Memphis Mighty Sound of the South, one summer with the Memphis Sound Drum and Bugle Corps, and four summers with the Phantom Regiment Drum and Bugle Corps where they won two High Drum Trophies, and one World Championship. Zeke has also been a performing member with the Grizzline, the drumline for the Memphis Grizzlies for more than 10 years now.
Zeke is currently the writer/director of the University of Memphis Drumline and manager/writer for The Memphis Grizzline. Zeke works with several high schools in the area, most notably the Munford High School Marching Band, and has worked with several DCI groups such as The Phantom Regiment, Crossmen, and most recently the Troopers Drum and Bugle Corps.